I have always been involved in physical activities. I was naturally attracted to all sports and practiced team sports such basketball and soccer. As a teenager I became passionate about bicycle racing competitions. I competed for 10 years with a fully sponsored traveling team (ASPTT) in France. I learned through practicing the basics of the body physiology and mechanics, but I wanted to learn more.
In 1988, I started studying Physical Education at the Center for Research in Sports and Physical Education (CREPS) in France. These courses provided me with extensive background in the body anatomy, functions, physiology and nutrition. Not only did we learn how to better train ourselves but we also learned how to set training methodology to reach physical goals for athletes studying Gymnic Expression at the same educational institution. These courses included Dance and Gymnastics technical skills. I now hold a degree in Physical Education and a degree in Gymnic Expression. After attaining my degree, I worked as a professor for CREPS as a National judge to admit qualified trainers into the program, for 3 years.
Soon after my education, I wanted to really apply what I learned. I started training for Body-Building competitions to experience it first hand. This would help me in the future to better train Body-builders. In my first and only year I reached fifth place at the 1990 NABBA European Championships, 10th place at the 1990 NABBA World Championship (Mr. & Mrs. Universe) and I was ranked number two in France. I competed in a category at that time called Fitness. But it was still muscle figure that the judges were interested in.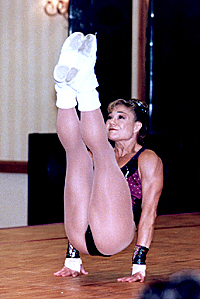 Since I first saw a Sport Aerobics competition in 1989, my dream has been to be able to participate in these events. So in 1994, I decided to start training for the next regional competition. Not only did I have to learn technical skills (jumps, one hand push-ups...) but I had to dramatically improve my flexibility. Coming from Body-Building competitions I had to train very hard. I won a gold medal at the California Regional Aerobics competition and finished 6th at the 1996 National Aerobic Championship. I really enjoy Sports Aerobics. Training for these competitions improved my technical skills and my flexibility. In 1996, my choreographer and I decided to partner in the Mixed pair category that added the difficulty of synchronization to our skills. We won the gold medal at the California Regional Aerobics competition and we went on to win the silver medal at the 1997 and 1998 National Aerobics Championship.
When I saw The Fitness America pageant on ESPN, again I was compelled to strive to conquer that sport as well. It seemed to incorporate much of my background in both bodybuilding and sport aerobics. Not only do competitors need to have flexibility, strength and technical skills to appear in the routine round, they also need to be physically conditioned with overall symmetry and muscle tone. That was the kind of competition I was looking for when I was competing in Body-Building. I competed in Fitness from 1995-2001. I finished 6th place in the 1996 Fitness America Pageant, and my final competition (so far) was at the Fitness Universe Pageant in 2001, where I was ranked 6th in the world. I was quite pleased with this accomplishment.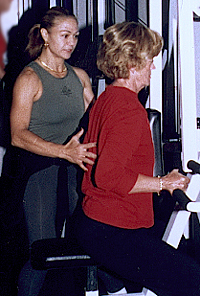 I have been working for over twenty years as a competitive athlete. I have been a coach and instructor of fitness for over 10 years. Currently, I work as a Personal Trainer, Aerobics Instructor, Pilates Instructor, and I teach Salsa, I also have my own dance team and I work one-on-one with fitness and sport aerobics athletes. I also work with clients with sport specific needs. I train in Pasadena, California. I continue to strive for excellence, both in my training as well as my education for athletes of all types. I continue my education by keeping my certifications up to date as well as acquire new certifications in new strength training and conditioning skills.
I enjoy Fitness activities, whether practiced as a shape-keeping activity or as a competitive sport. What I enjoy most is to share my passion with others and see them enjoy it as much as I do. Personal training is my way of helping people rediscover themselves and change their body shape as well as their mind shape, like a sculptor that curves out a beautiful piece of art work from an unshaped block of material. Fitness is a part of my life. It always has been, and it always will be.