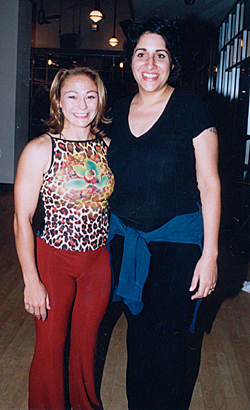 As I deep-breathed my way through another boring mat class, I noticed a gorgeous leg fly through the air in the hall behind me, a well-worn jazz boot clothing the arched foot. 'Why would someone in a gym wear a jazz boot?' I wondered.
I politely patted my forehead dry and turned to exit the class as a stream of sexy men and women poured into the studio beaming with enthusiasm. The place was pounding with Salsa music and the warm-up had begun before the door closed behind me. I got home and immediately crossed off my Tuesday night mat class, scribbling "DANCE!" in its stead.
As a child, I loved my jazz classes. I had seen my body change from a child with layers of baby fat to that of a woman's. so much of my femininity and identity as a young woman was wrapped up in dance. When I finally returned to dance after years of neglecting my body, I weighed 200 pounds. In a studio full of spaghetti-limbed 16-year-olds, I felt like the Elephant Man. I tried the class a few more times, determined to lose weight, but the heavy burden of judgment only added to my embarrassment as the class waited while I stumbled through combinations. Each time I left the class, I cried alone in my car. Dance was gone from me forever. I'd never get back to my old body without dance: "the gym" was a foreign concept to me, and in my state of absolute failure, I was unable to control my reckless eating.
When I saw a casting ad for the TV show "The Discovery Health Body Challenge", I was instantly intrigued. For 16 weeks, I would receive personal training and a gym membership, as well as nutritional advice. I got the call that I was cast and I was elated! If I got healthy, I'd be dancing again!
When I arrived for Sylviane's Tuesday night dance class at the gym, waves of insecurity flooded over me. I was healthier for certain, but still near 175 pounds and at 5'8" and a size 14. Would I be able to keep up with the gym bunnies? Or would I fail again at it, only to find myself choking on frustration and self-loathing?
Sylviane's smile came through the door before she did. Her class returned the favor joyously, laughing and encouraging one another. The music was deafening and the beat instantly got my pulse racing. I performed the entire warm-up and was dripping with sweat. We began to work on the combination and I could not wipe the smile from my face. I was moving again! Everything was broken down in such a simple way, and the music was so inspirational. I felt like a powerhouse of motion and movement, mastering the steps and loving every moment of it. I bounced through my front door that night just beaming with satisfaction and joy.
Each subsequent class with Sylviane became easier as my body became stronger and my mind adjusted to the moves. My extremely challenging thrice-weekly personal training sessions became preparations for dance. I lunged and squatted to exhaustion for my salsa turns; my ab work was now about stopping on a dime. Everything I was doing during strength-training and cardio related back to Tuesday night with Sylviane. The fact that I never once felt condemned or judged by the class relates directly back to our leader. Sylviane creates an electric environment of suspended time where challenge and excitement meet encouragement and positive reinforcement. Every person in the class is important to Sylviane, and in all my years of dance, I have never experienced that before. I have also never seen a dancer who looks like her either. Most professional dance instructors are long and lean, a condition of genetics, carrot sticks and cigarettes. Sylviane is packed with sexy, sinewy muscle, a condition directly related to her commitment to her health. That she has a body that I can emulate without an eating disorder is a great inspiration to me.
Thank you Sylviane, for the way you run your classes, the way you take care of your body and for returning to me a love that I thought I had lost forever!
By the way, you can follow me through my weight loss on the show which will air in January and again in March on the Discovery Health Channel. There will be a special feature on Sylviane's class!
Seana Pierce